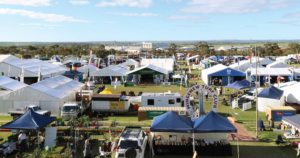 Come and visit us at Site 10 in the Home & Living Pavilion at the 2023 McIntosh & Son Mingenew Midwest Expo next Wednesday and/or Thursday! [see site map below]
We'd like to hear from community members on local road issues to assist in the development of our Road Improvement Strategy. we would also like to gain any feedback or solution ideas you may have on the heavy vehicle access along Boolinda Street (to and from CBH).
We will also have information available on key proposed projects and seek your input into the design. Projects include:
Mingenew Spring development
Victoria Street Precinct Masterplan
Mingenew Childcare Facility
Mingenew Cenotaph Upgrade
Mingenew Community Garden
Mingenew Waterplay Space
Mingenew Hill Lookout
Its also an Election year, and we'd love the chance to discuss the amazing benefits of becoming a Councillor and give you some real insight into what the role entails (warts and all).
Councillors and staff will be attending to take your feedback and discuss any matters that are important to you.
We'll see you at Expo!
To view the Exhibitor site map click here – we are at site 10 in the Home and Living Pavilion.